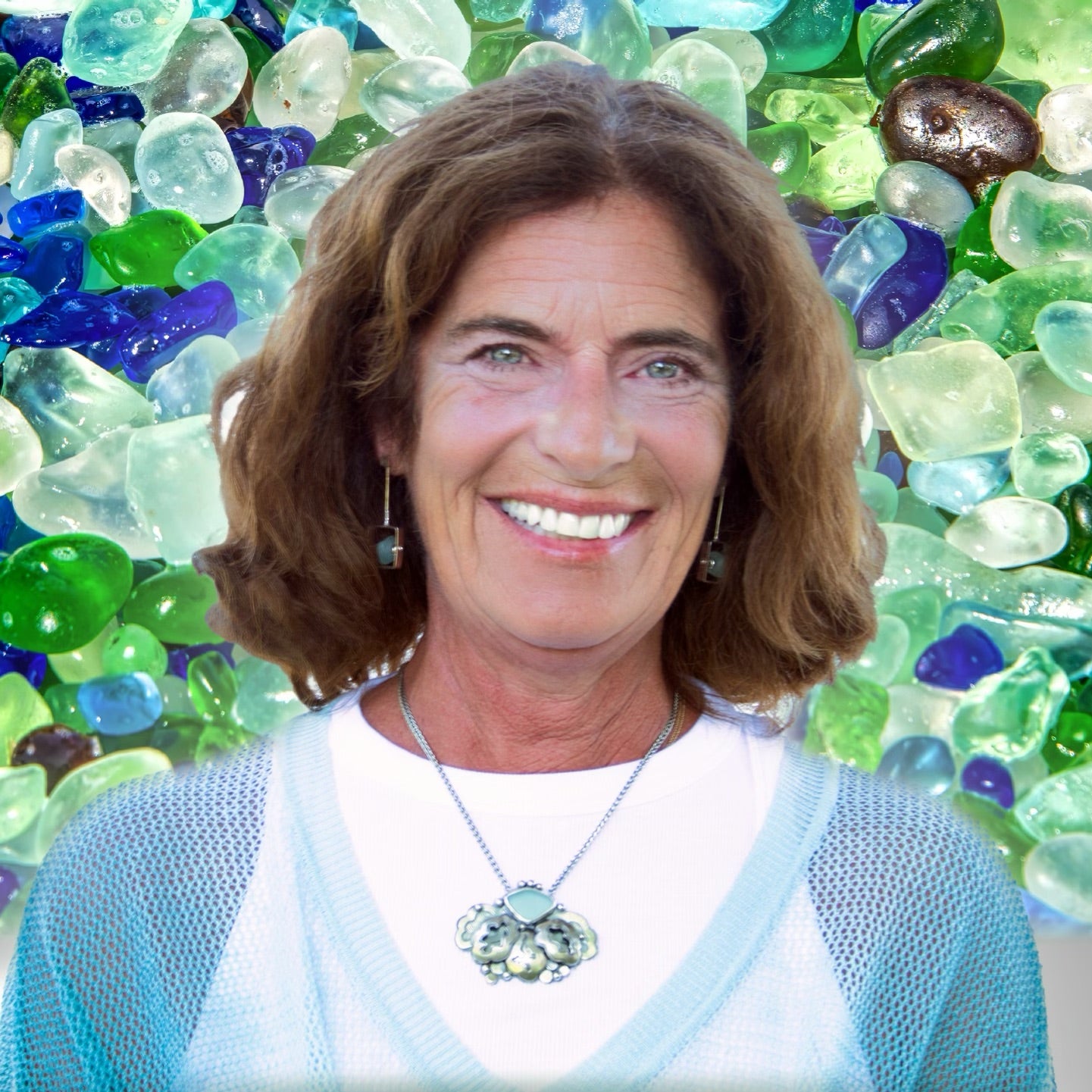 About me
I discovered long ago that I loved working with my hands and in turn earned a degree in textile design.
The art of jewelry making was something that came to me by accident.
Fueled by my love of the lake and my collection of beach glass, I sat down 19 years ago and made myself a very organic bracelet using beach glass. I wore this bracelet to an event, and was asked to make 5 more. And so this journey of creating jewelry began.
I have had the honor to study under some truly amazing people and have worked hard to refine my work to new levels, from the first organic bracelet.
Today, I am in my studio everyday creating one of a kind pieces to share. I am passionate about my work and I hope you can feel and see that in my work.
Shop Now
Reviews
My better half and I have greatly enjoyed a number of  hand-crafted, uniquely designed pieces from Chris at Crystal Moon Designs.  While they may be considered jewelry, I view each one as a unique work of fine art and craftsmanship.  - Mike
I have collected quite a few of Chris' beautiful handmade jewelry for my wife and daughter over the years. Chris creates her jewelry with beautiful artistic flare and experience in her design ideas. I'm looking forward to seeing what new design ideas Chris will create in the future.
I was never a lover of beach glass until I met Chris Keener.  Chris' craftsmanship and design are second to none.  I have purchased many pieces from Chris over the years, some of which hold a very special place in my heart.  I never wear a piece of her jewelry without receiving many compliments and "where did you get that".  I never hesitate to refer people to Chris as I know they will fall in love with her unique jewelry as I did many years ago.  Our community is truly blessed to have an artist such as Chris.  Not only is she incredibly talented but she is a truly kind person.  I always look forward to seeing what she is going to create next.
I have a major collection of rings ( I am a ringaholic) done by Chris....and they are simply fabulous! While other artists generally make beach glass rings with a simple band and bezel, Chris makes each and every piece of her work interesting! It may be a stamped band, or a decorated bezel, or even a combination of genuine stones and beach glass, her work is unique. I have gifted other pieces of her work to  friends and family members...bracelets, necklaces and earrings, and each recipient has been thrilled with her work.  Her pictures, although great, do not do justice to her work. Her work is simply beautiful!
Chris is a true artist. She has created several unique pieces for me, as well as falling in love with ones she has already created in her studio.I will give her the stones or sea glass and with some explanation and ideas for them, she magically creates "exquisite", one of a kind pieces of jewelry. She is not pleased until you are pleased. She is more than willing  to continue working with  you until she has master your favorite piece of jewelry that you will treasure for a long time.People will stop, admire and take notice of it. I trust her to make all my jewelry dreams come true.
I have known Chris Keener since 2008.  Over the years I have bought (and been gifted) many of her pieces.  I would say they keep getting better and better until I open my jewelry box and see one from years ago - it's just as beautiful as the day I received it. She makes quality original jewelry from her heart- she is an artisan- her pieces bring me a sense of joy and  love when I wear them...and lots of attention from admirers too!  Her pieces are the treasures in my jewelry box.
"I have purchased high quality sea glass jewelry from CMD for decades.  
Her designs and silversmithing skills are far superior to any I've ever seen in the Cleveland area.  Her unusual and colorful array of sea glass (and other precious stones) and the creative way she intertwines them in her unique silver creations leaves me in awe of her design abilities. Her passion for silversmithing, along with her excellent customer service and fair pricing keeps me at the top of her customer list!"
I purchased this stunning Labradorite necklace that Chris created. My wife will love the pearly sheen of this beautiful mineral. Thank you Chris for your graceful artistry.
Handcrafted Artisan Jewelry
Artisan jewelry for the Free Spirit
Creating Beauty from Chaos
PROFESSIONAL SUPPORT
support@crystalmoondesigns.com
100% SECURE CHECKOUT
Protect buyer & clients